Here's one way to start the summer off with a bang: Head to Denmark to shoot virtual reality at northern Europe's largest music and arts gathering, the infamous, and incredibly sustainable and socially conscious, Roskilde Festival, which, this year, included Neil Young, At The Drive In, Red Hot Chili Peppers, Action Bronson, Wiz Khalifa and an all-star cast of over 100,000 professional vomitors and shameless public urinators (oh to be young again...).
Here's another way to start the summer off with a woot woot: Head to Skodsborg, Denmark, a beautiful quaint coastal town, to have a beautiful Dane splash you with ice cold lavender-scented water after convincing you and your pot belly to roast in a sauna, just before somehow making you think jumping into the frigid waters of the Baltic sea from the private jetty right across the street was a good idea. Oh...and to shoot it all in VR (and btw...yes...jumping into the Baltic was indeed a good idea).
Here's yet another way to start off the summer with a yahoo! Head to Helsingor, Denmark for a private tour of the Kronborg Castle, a UNESCO World Heritage Site best known as Elsinor, the castle made famous by Shakespeare's "Hamlet." Oh yeah...and shoot that all in VR too!
Oh oh oh wait...here's one more way to start the summer off with a gotcha! Head to Nazareth, in the Holy Land, to reconnect with the place of your birth and the home of just about all of your relatives and bloodline. In between belly-growth-hormone-laced meal after meal, you can make your way to spots like the Sea of Galilee, Haifa and Jerusalem to...well...yeah, shoot some VR!
Somehow, someway, I was able to finagle out of life all 4 of these different ways to start your summer off with a bang, into the beginning of a single summer!
This one.
(I have a feeling she'll come back to collect in coming years, but until then...)
The trip was cast over a period of 3 weeks. The first 10 days, and focus of this post, were spent in Denmark, split between Roskilde, the Hotel Skodsborg, and Helsingor, and they went like this (and by the way, when you see a photo with the 360 symbol like the following one, you can click on it and then drag around to see in all directions...neato stuff right?!):
Days 1 - 6: The Roskilde Festival
This. Was. Insane.
So the Roskilde festival is an annual event that has been taking place since 1971. It's held on the outskirts of Roskilde, Denmark, a charming town of about 50,000 that sits roughly 30 kilometers west of Copenhagen. It has a very rich history dating back to the pre-Christian Vikings, and at first seems like an unlikely location for the largest music festival in northern Europe. Lucky for me, Joan Jetsetter, my partner in Superswell VR, was invited to Roskilde and graciously let me tag along to help shoot some VR video throughout Denmark.
Roskilde Festival is a non-profit that's staffed by about 30,000 volunteers and hosts about 130,000 festival goers over the course of a week's time, most of whom shack up in the campgrounds set up around the festival grounds. Now, 'campgrounds' is being quite generous, as, no thanks to the weather, they felt more like mud-puddle border camps that were carpet-bombed with urine and various varieties of upchuck, but nevertheless, all of the attendees seemed, for the most part, quite unfazed and rather happy to be there, perhaps, due in no small part to the fact that, well, by participating in this madness, they're doing good for the planet.
Yeah, that wasn't a typo.
You see, Roskilde is very much set up with sustainability in it's DNA. As a matter of fact, the very mission of the Roskilde Festival Charity Society, the non-profit behind the festival, is "to support initiatives benefiting children and young people and to support humanitarian and cultural work," so there's a huge focus on philanthropic and eco-friendly practices throughout all aspects of the festival. The aformentioned campgrounds, for instance - rather than lug all that stuff back on the trains and busses, more than half of the festival goers choose to leave their equipment and tents and sleeping bags behind. Roskilde collects it all, cleans it all, and donates it all to those in need of basic shelter and survival items, this year focusing on Syrian refugee camps.
Additionally, the festival mandates that all of its food vendors use at least 75% organic ingredients and materials, and their goal for 2017 is to increase that inspiring requirement to 90%. And speaking of food, none of it is wasted. All leftovers and unused portions are packed up and sent to the homeless and the hungry.
With that being said, over the next several days, I totally did not feel bad about rocking out to acts including At The Drive In, Neil Young, Action Bronson, LCD Soundsystem, Wiz Khalifa, House of Pain, M83, Immortal Technique, Mo, and Mura Masa, all spread across 9 stages on a field that seemed like it would never end.
But believe it or not, the music shared equally the title for main attraction with everything else on the festival grounds, from the aformentioned phenomena that are the campgrounds - including sites like Dream City, where teams spend months putting together their customized and ornately decorated camps, similar to a Burning Man setup, but on a slightly smaller, and much muddier, scale - to the street culture, skate demos, and art installations that adorn the Art Zone, Street City, and the Grafitti Zone, to the legendary 'Naked Race' that takes place through Dream City every year - and yes, that's exactly what it sounds like. For better or for worse, we shot some of this in VR and will be posting the 360 videos at www.SuperswellVR.com in the very near future...
The People of Roskilde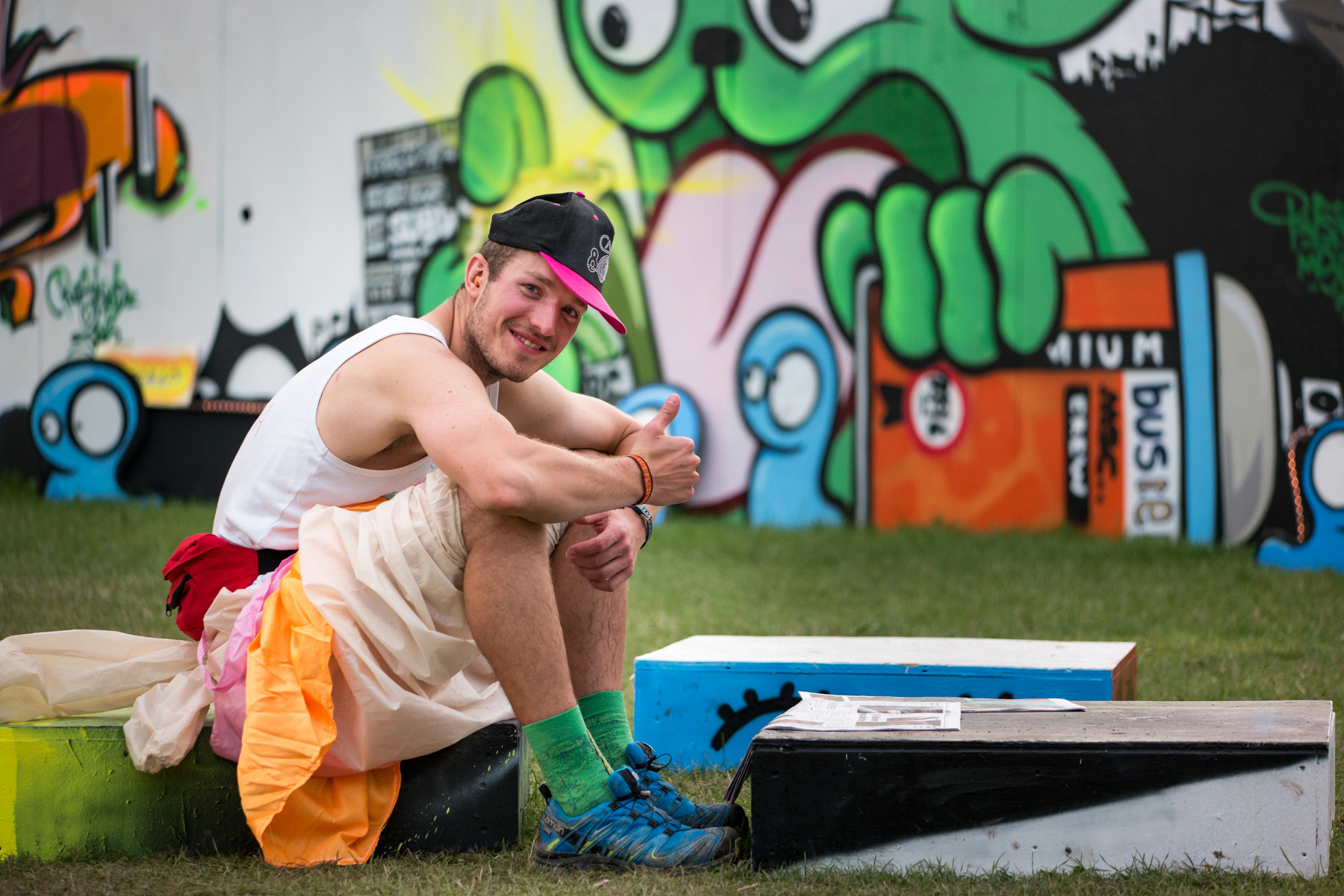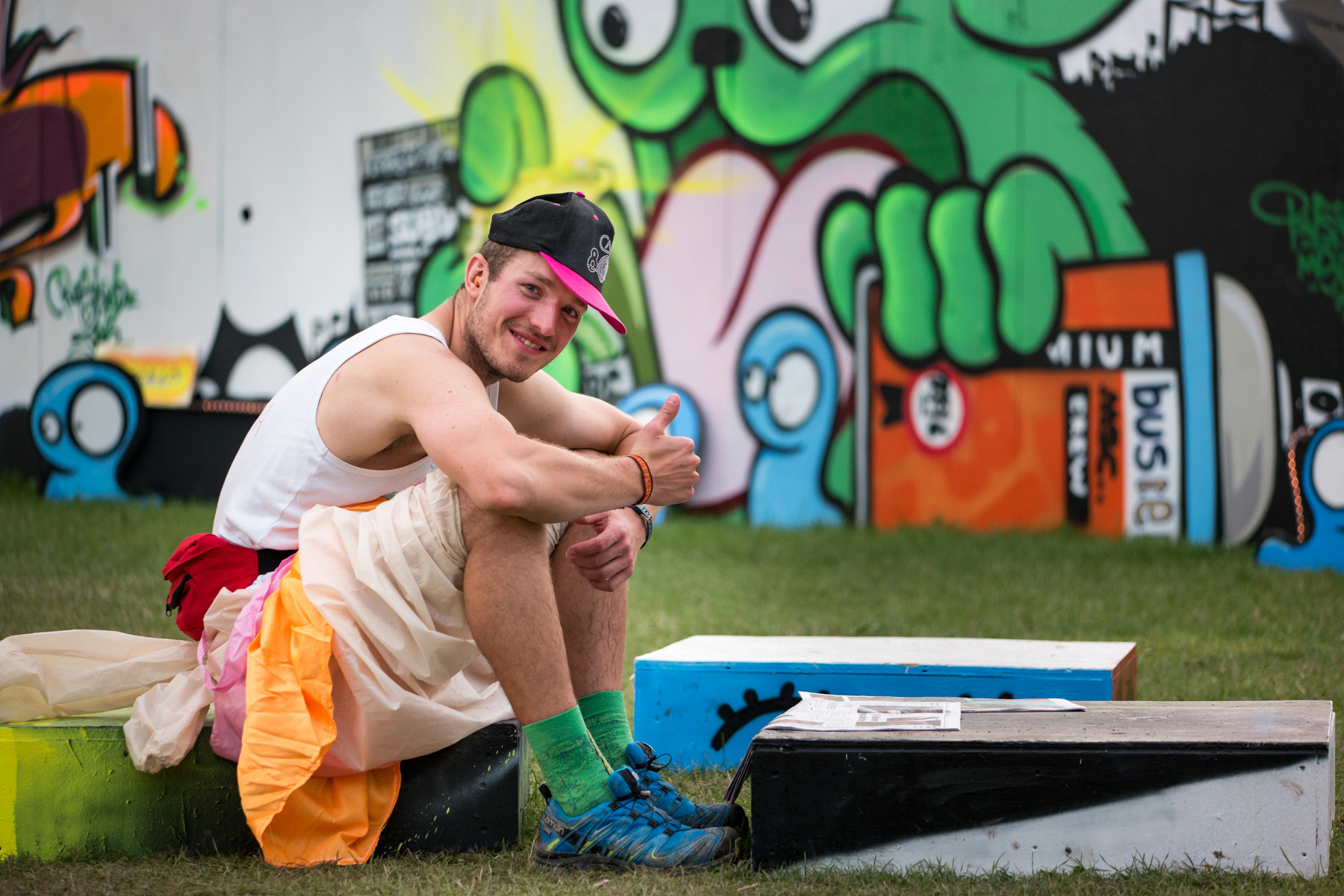 All in all this festival was incredible fun. The atmosphere, the amenities, the entertainment, the culture...Europeans know how to do it right! One of the most remarkable aspects of this entire thing was the complete lack of douche-baggery. I cannot think of one time, in the entire week that we were there, that I saw any sort of violence or general assholiness. It was almost disturbingly civil from end to end. America, I love you, but we've got a lot to learn...
After almost a week of logging well over 60,000 steps, we were due for some R&R, and what better way to rest & relax than - yeah, that's right, I, a heterosexual Los Angeleno, am about to proudly say it - a spa.
Days 7-9 : Gettin' fancy at the Kurhotel Skodsborg, and gettin' our Shakespeare on at the Kronborg Castle in Helsingor.
Our experience started almost immediately after walking onto the perfectly manicured grounds. We were properly greeted by the friendly staff, shown to our respective rooms, and whisked away by the General Manager for our grand tour of the incredibly luxurious Kurhotel Skodsborg, recent winner of Europes #1 luxury spa.
What better way to start your 'spa' experience than on a sublime sliver of land that rests snugly between the forest and the waters of the Baltic Sea, standing in the middle of King Frederik the 7th's villa, where he spent his summers with (and word on the street is, often spied upon), his wife Countess Danner? (See that...I'm cultured!)
After our mini-tour of the recently renovated Villa Rex, which was restored to it's original drawings so it looks the way it did in the 1800s, we were led to the centerpiece of this property...the 2016 World Luxury Spa Award winning...well...spa, where we were handed off to spa master Tina to do what she do, who started by ensuring we've conformed to the proper dress code: robe and slippers.
The experience began with a tour of the spa facilities. I have NEVER in my life been in a place like this, and unless some serious good fortune strikes, I may never have a chance to set foot in a place like this again. So I soaked it all in (slight pun intended) - 16 different cooling and warming experiences...yeah, that's right and experiences they sure are. We walked by massage showers, a salt grotto, a steam room, and spa rains, all straddling the perimeter of a pool in glow by the skylights welcoming in Denmark's 20 hours of daylight, before ultimately arriving at the centerpiece of today's experience, the sauna.
Now don't be fooled, this is no ordinary sauna. There were wooden buckets filled with scented waters, and once you're inside, nice and toasty, Tina uses everything from a wooden spatula to a towel to her hands to conduct some sort of voodoo that would surely be illegal if anyone found out was happening. I mean, nothing...NOTHING... should be as refreshing as a towel blast of lavender-scented cold water vapors straight to the dome. And nothing...NOTHING...should be as freakishly invigorating as a bucket of ice water lunged right at your back. I don't care WHO you are, at that point, you're screaming. Loudly. And shamelessly. And you're enjoying every ridiculously exhilarating second of it.
So you think it's over. And you think you're ready for a steak dinner. But no...Tina has other plans. And by this point, you're well beyond fighting it. You've given in. She is your leader. And you will do as she says. So when she says jump into the ice cold waters of the Baltic Sea...you say...OH HELLLLL NO!!! And then you do it anyway.
That evening was one of the best nights of sleep I had had in a loooooooong time...perhaps even years. And when I woke up the next morning, looked out the window to see a blue sky with scattered cartoonish Simpsons clouds, and saw that my agenda consisted of a short train ride up the coast of Denmark to the town of Helsingor for a tour of the Kronborg Castle followed by a slow meandering walking tour through the village, I smiled.
Life is good.
The castle was...IMPRESSIVE. It's crazy to walk up on a thing like this and know that it's real. It's wasn't built as a facade or a movie set or an amusement park gift shop...this thing was a real, living, breathing, castle. And it was enormous. And it was surrounded by a moat, and the moat was surrounded by carefully manicured rolling green hills on 3 sides, and the Baltic on the last.
Our guide led us through the various halls and wings of the massive structure, all the while, various scenes from Shakespeare's "Hamlet" were being played out by actors and actresses throughout the grounds. This was too much fun.
After the castle, a guide proceeded to lead us on an afternoon walking tour of the town of Helsingor.
Classic, clean, charming, quaint...Danish!
We strolled through colorful corridors and storybook neighborhoods, cobblestone sidewalks and art-adorned walkways, finding ourselves standing in front of centuries old churches and Viking-era alleyways, before closing out the afternoon the way any Dane worth their Krone does - at a neighborhood sidewalk cafe preparing to recklessly inhale a vanilla-bean ice cream chocolate crepe (I know they don't...but a man can dream damnit!).
This was a trip for the ages. There's no doubt about that. And I couldn't be more grateful to Joan Jetsetter for allowing me to tag along, her role in setting up it all up, and her bright eyed and adventure-addicted company throughout the whole thing. And I have to give a big ups to the charming, warm & gracious Cecelia, our tour guide throughout the festvial, and Martin, the overly accommodating and hospitable PR contact at the festival. T'was truly a blast!
And now...I had to prepare myself for part 2. I had no idea how much the rest from the past couple of days was going to be valued, for what the next 10 days had in store for me, I'm still trying to make sense of it all even almost 2 months later. It was all a bit of a blur. Beautiful madness. But madness nonetheless. The fog is starting to clear, and I'm getting close to deciphering the insanity, so soon...I'll post it here. Should be in the coming week or so...
To check out a tour of the Kurhotel Skodsborg, the Kronborg Castle, and the town of Helsingor in VR, grab your Gear VR or Google Cardboard, and visit us at www.SuperswellVR.com/DenmarkVR. We'll be posting those videos in the coming weeks, so follow us on Twitter or Instagram and we'll let you know once they're live. And if you don't have a VR viewer yet, it's still cool to drag your mouse around the video to see all angles all the time. However, go get a VR headset. Now. Trust us. It's fantabulous. Heck, even President Obama's got one!!
In the meantime, if you're craving more knick wacks and knack wicks, find me at:
instagram: @wasimofnazareth
ello: @wasimofnazareth
google+: +WasimMuklashy
And if you enjoy these posts, please feel free to subscribe to my mailing list at top right of this page, and I'll deliver each post to you as I publish them, and if you support the kind of work I'm doing and the things I'm sharing, please consider 'subscribing to me' on Patreon.com. Yup, subscribing to 'me.' You can even set the price. Literally, $1 per month if you want. No joke, your little helps me a LOT.