This was one of the main reasons I moved up to the Pacific Northwest...the great outdoors are not just a thing to do, they're the thing to do. Life, for the most part, revolves around Mother Nature and the wondrous gifts she bestows upon us, both physically and mentally, and one of the best ways to experience this is by disconnecting from anything and everything that dings, rings, or pings, and giving yourself completely up to her.

In this case, it was some good ol' backcountry backpacking.
These are the types of trips that teach you more about yourself and your place in the world in a few days than most struggle to learn in a lifetime, and for me, it's been a long time coming. Almost a few years have passed since I've filled my Osprey pack and I've been aching to do it for just as long, so when a friend decided he was going to get crazy and organize a 4-day excursion into Olympic National Park's backcountry via the High Divide Loop trail that we've been chatting about for months, I immediately jumped on board.

We met the night before at the Sul Duc Campground, got ourselves acquainted with whatever new unused gear we had brought along, and passed out. The following morning, we headed to the Springs Restaurant at the Sol Duc Hot Springs Resort to load up on calories for our last 'real' meal for a few days, took some, eh, advice (at face value), of how to handle mountain goats (which can apparently get quite aggressive, if we ran into them), which included (and we're still trying to figure out if dude was pulling our leg or not) grabbing them by the horns and throwing them down, and drove to the end of the Sol Duc Road to the, yup, Sol Duc Trailhead, strapped on our packs, loaded the topography maps into Gaia, and into the forest we crept.
The trail begins in the old-growth forest, and our first destination for the night was a campsite about 5 miles into the thicket. We walked through gorgeous fern fields and random meadows, crisscrossing trickling streams and more-than-trickling rivers, and the deeper in we got, the thicker the canopy got, and, well, the darker it got. We arrived at our first site just in time to take advantage of the last few minutes of twilight to go to war with a swarm of mosquitos, set up camp and (try to) start a fire (in case you're unaware, or unprepared, it's not easy to find dry wood in the Pacific Northwest rainforest).
The next day began our first real full day on the trails. Our next campsite was supposedly about 7 miles away, and figured we'd have plenty of time to reach it if we left around noon, so we began our upward trek through the remainder of the old-growth. Just as our legs began to feel wobbly from navigating through the forest thicket, we found ourselves at a riverbank, where we were able to wash off, lunch up, and refill our water bladders before continuing.
Just a few steps later, after making our way around a bend, we found ourselves in one of the most spectacular sub-alpine meadows I've ever set foot in. At the precise moment we stepped foot into the fields of wildflowers, it was being lit by the soft golden late-afternoon sun - trickling streams surrounded by the mild breeze feathering the tips of the foliage, a couple of bears nonchalantly meandering about their way along alpine lake-beds - made it all feel like we were standing in the center of a fairy tale. And when we turned around, along the ridge line in the distance, we can even make out schools of elk - some marinating, some grazing - along patches of perfect green grass on the sun-soaked hillside.

Super surreal.

Super bizarre.

Super cool.
After casually making our way through this sanctuary, we knew we had a couple of miles left before reaching our next campsite, so we tried to power through some more 'up'.

'Tried' being the key word here.

You see, once you get to the top of this particular ridge, especially as the sun is setting, you are treated to a scene that renders you completely immobile.
Imagine standing on a thin ridge, where on one side, you're seeing Mount Olympus and the snow-capped mountains surrounding it, slathered in a myriad of pink and blue and purple hues from the setting sunlight, and then, on the other side, being separated from a seemingly endless range of golden-sun-lit tree-covered mountains by a valley filled with shimmering alpine lake after lake.
How the hell can you move?

You can't.

So you marinate.
Here's a 360˚ view, feel free to drag around on the image to see all directions:
Once you snap out of the trance, you pull out your headlamps, because as soon as the sun sets to the west behind the basin, the light immediately begins to disappear.

Quickly.

After clumsily scrambling through the last mile or so, our collective 'headlamp power' allowed us to vaguely make out the "two silver trees" that marked our site for the night, Silver Snag, situated right along the ridge.

Once we had our camp set up, our bear canisters stored at a safe distance away, the final challenge after an exhausting day of hiking a lot of 'up,' you wouldn't think it, was, well, falling asleep.

"Did you hear that!??"
'Yeah, did you hear THAT!!??"
"Is that an animal!? What is that?"
'They're goats. I think they're goats! I see their eyes!'
"What? What do we do?!"
'Let's scream!'
"RAAAAHHHHHHH GOOOOO AWAAAYYYY GOOOAATTSSSSS!!!!"
'I think they're gone.'
"Wait, did you hear that!??"
'Yeah, did you hear THAT!!??"
"The goats…I think they're back!"
"RAAAAHHHHHHH GOOOOO AWAAAYYYY GOOOAATTSSSSS!!!!"

You get the picture.

Every single leaf that brushed across our tents or piece of sleeping pad that wrinkled under our weight…was, in our minds, another animal out to get us.

But apparently that all eventually came to pass because we all woke up to what had to be the most incredibly idyllic campsite I've ever been on.

On the one side, you've got wildflowers that lead your eye into part of the valley we saw at sunset the night before - 7 Lakes Basin - where we were scheduled to descend into today.

On the other side, across the valley that separated the ridge we were on and the mountain ranges in the distance, you've got…Mount Olympus!

While the morning was defined by billowing clouds that could have easily gone either way, after a bit of begging and praying, she finally decided to indulge us for a few minutes by peeking her snow-capped face through the cloud cover.

And she was glorious.
And then...just like that…she was gone…

We decided that since today's hike was supposedly only 4 miles or so, and that the fog was rolling in and there was a bit of sprinkle that started to fall from the sky, that we'd spend some time here for a half-zero-day, maybe wait out the rain, walk around, explore, take some pictures, relax, maybe take a nap…

"Dude! I see the goats!"
'What? What do we do?!'
"Let's scream!"
'RAAAAHHHHHHH GOOOOO AWAAAYYYY GOOOAATTSSSSS!!!!'

Yeah, they were back.

And they were shameless.

Don't be fooled - yes, they're frickin' adorable from a distance - but these savages have some serious passive aggressive issues.

With each time we tried to scare them away, they became bolder. They got closer. They got angry. They started to huff and puff and dig their horns into the ground.
We didn't know when it was appropriate to just yell, when we were supposed to 'throw rocks at them,' or if we were truly supposed to prepare to take the crazy buggers down by the horns. Once we realized that if we shook the crap out of the rain flies from our tents, they were frightened enough to run back towards the ledge, so we employed that tactic to exhaustion.

But each time, they returned.

Further emboldened.

Needless to say, nap time was no longer.

One of us ended up having to stand guard with a rock in one hand and a rain fly at the ready in the other, while the other two of us hastily packed the packs.

But we gone done did it.

And off we went…onto the next one.

As we descended into the valley dubbed "7 Lakes Basin," the fog began to slowly clear, revealing the surreal landscape before us - rolling hills with scattered lakes, both shallow and temporary ones formed by visible snowmelt, and deeper bodies of water that are more permanent features of the terrain.

We spent the next few hours navigating the trails that snaked besides the lakes as we descended deeper into the valley towards Lunch Lake, our home for the night. Once we arrived, we threw on our mosquito nets (didn't think it at the time, but quickly came to realize it was the best 3 bucks I've ever spent), set up a lake-side assembly line to efficiently fill up our water bladders with freshly filtered water, watched as the rest of the fog cleared through just in time for the deer to graze before us as the sun set, cooked up another series of (relatively) delicious dehydrated meals, and drifted off into the night…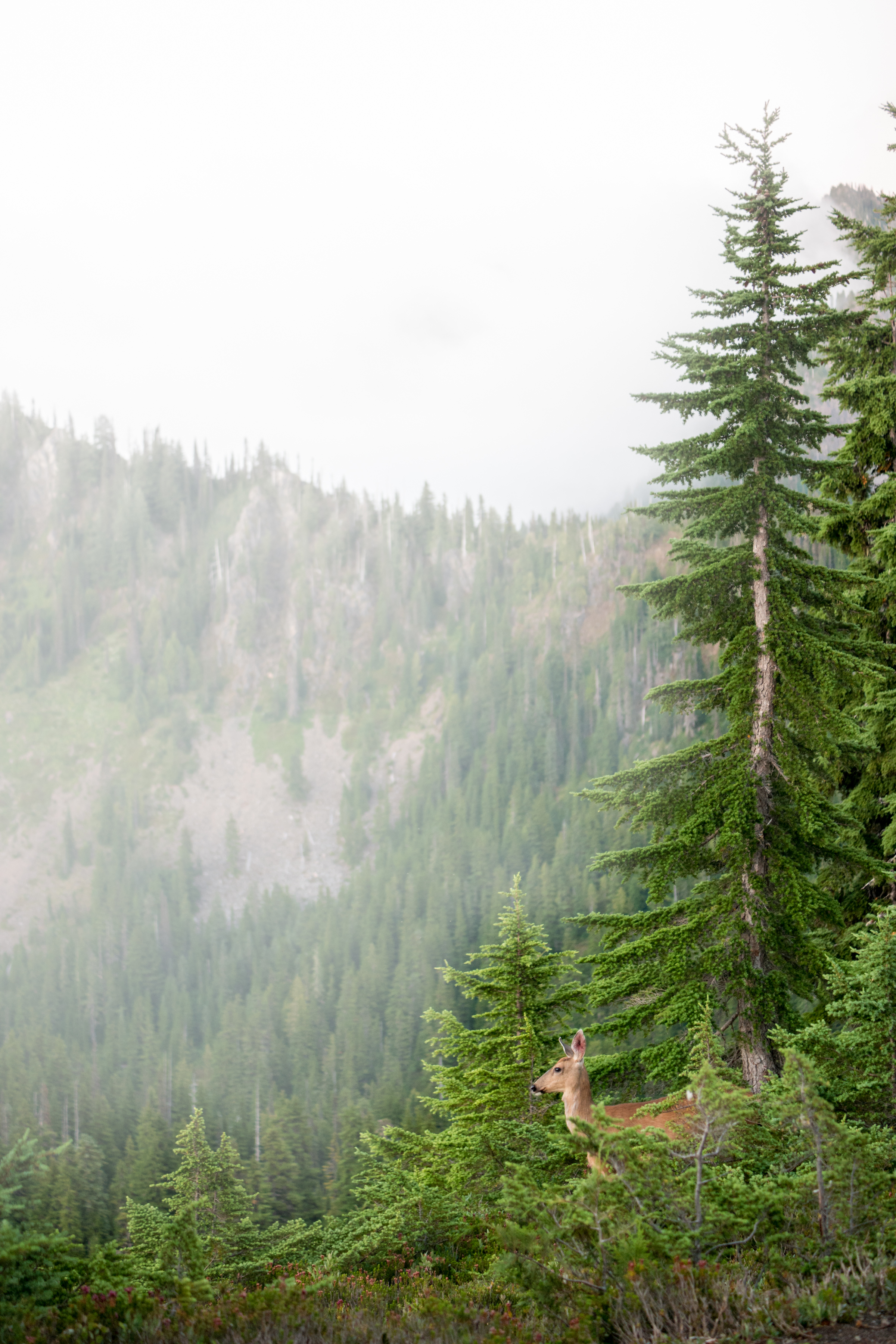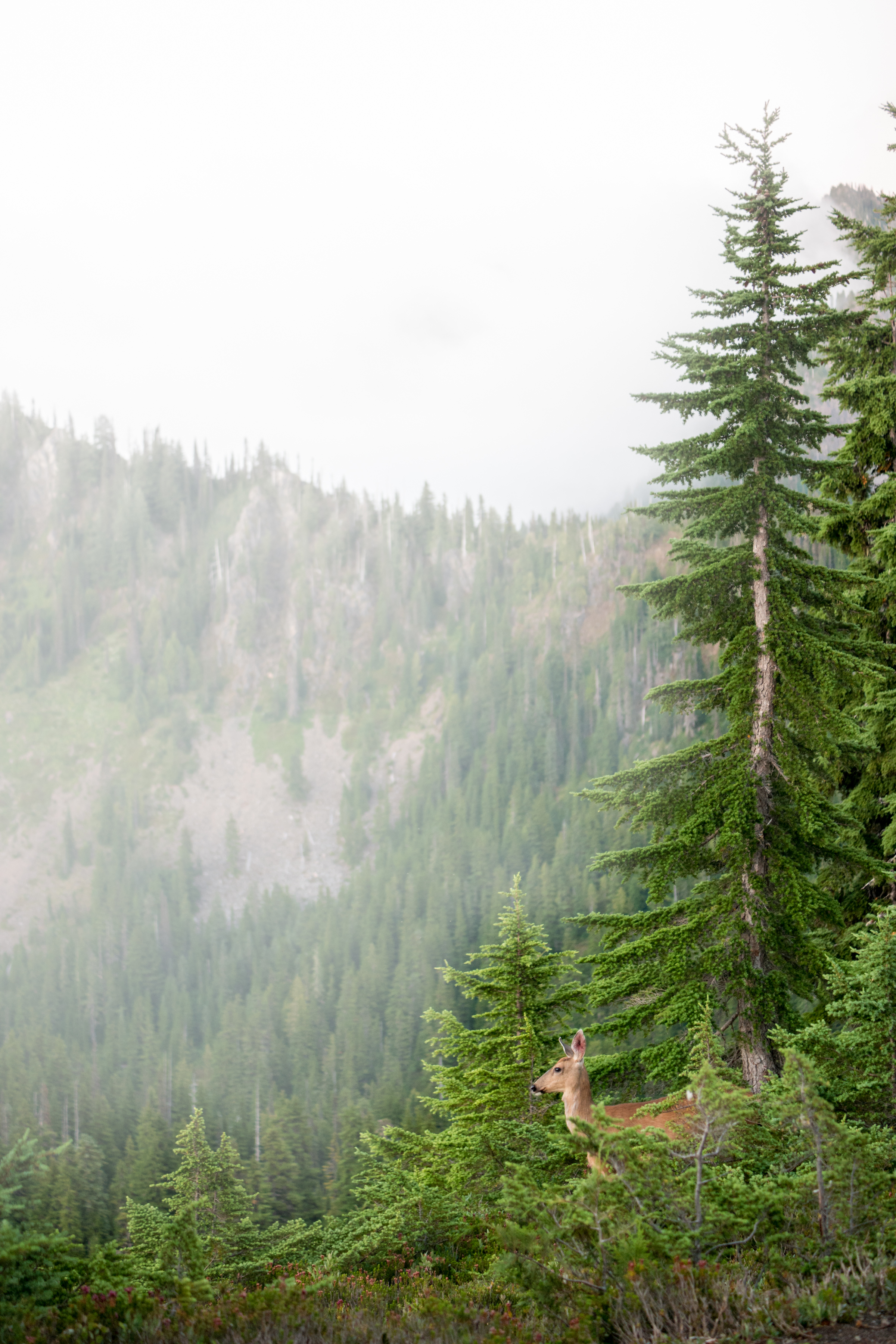 This was our last day, and the first part of it, we were not looking forward to.

You see, that trail that we lazily meandered down towards Lunch Lake the day before, was not the same trail we'd be walking out. Instead, we were faced with about a mile of steep rocky uphill switchbacks that covered roughly 1000 feet of elevation gain.

But if you do this in the summer, you'll have small streams created by melt from patches of snow that dot the basin.

Take advantage of them.

Dip your hat in them.

Oh my god…dip your hat in them!

And then when you get towards the top, turn around to see…THIS:
We continued along the ridgline, where, against a backdrop of perfectly clear blue skies and a foreground of lush green forest, Mount Olympus decided to holler at us one more time, bidding us farewell as we began our descent back into the forest.

Just past our final view of Olympus, we ran across a field that overlooked an epic portion of the basin - a well-earned opportunity to just drop your pack and just let it all soak in.
As we continued to slowly snake our way back through the sub-alpine elevations and back into the old-growth that we emerged from just 48 hours ago, almost as if it was a planned parting gift from the gods, we found ourselves on a portion of the trail that was lined with wild, INCREDIBLY delicious, blueberries. If you're lucky enough to be here when they're around, (look around and make sure there are no bears and then) eat them!

As our final Olympic National Park sun began to set, we were just arriving at Deer Lake, where we enjoyed one last break as we watched the day's last golden sun rays slowly paint the tips of the trees and shimmer across the water before disappearing behind the mountain, leaving us with about 3 miles of old-growth to navigate in the final twilight before emerging right where we began.
The Olympic National Park High Divide Loop…you frickin' rock!

I will be back…

While I hope you enjoy it, the gallery below can't even begin to do it justice.

And for those of you that are thinking to tackle this one…stop thinking and just do it. I'll spare you the standard tips and advice that you can find on other sites that have more expertise on the matter, such as Outdoor Project or the official National Park Service site, and leave you with a few personal tidbits:

One thing, we tended to underestimate each days hikes, both in length and time it would take us to get from one camp to the next. So take it from our lessons learned, try to be on the trail before 10am each day to give yourself ample time to explore without scrambling in the dark towards the end of the day. That way you'll have camp set up and get to explore your surroundings during what are typically the best, and most dramatic, hours of light.

Also, be aware, the route that we took is not the traditional route. Most hikers will do this trail counter-clockwise, but, as there are limited camping sites available once in the backcountry, we were unable to secure the permits to do so, so we opted to do it clockwise. You may run across sites that may describe this as a hidden secret to experience the loop in this way, but either way you go, you can't go wrong.

Oh...and please, for the love of god, take it from me, guys out there, invest in a product called Body Glide.

And boxer briefs.

Preferably merino wool.

Don't ask any questions, just trust me on this one.

Seriously.

No…seriously!
Finally, check in from time to time, or better yet, sign up for my mailing list up on the right side of this page, as I also shot a lot of 360˚ virtual reality video footage for Superswell VR that I will be piecing together in the near future - that way, I get to relive the experience and you get to join us on it (and don't worry, I'll spare you the mosquitos and the loony goats)!
Oh...so here's that 360 video I've been promising. If you've got a Gear VR, Oculus, Daydream, or even Google Cardboard, strap that sucker on:
You'll also find it on Samsung VR and on Veer.TV app if that's more convenient for your devices.

And if you're aching for more wibble dabblies and dobbly wobblers, find me at:
instagram: @wasimofnazareth
ello: @wasimofnazareth
google+: +WasimMuklashy
And if you enjoy these posts, please feel free to subscribe to my mailing list at top right of this page, and I'll deliver each post to you as I publish them, and if you support the kind of work I'm doing and the things I'm sharing, please consider 'subscribing to me' on Patreon.com. Yup, subscribing to 'me.' You can even set the price. Literally, $1 per month if you want. No joke, I'm a poor bastard, so your little helps me a LOT.